Saturday, January 26, 2008
Later Cat
Just a quick note to my friend
Monte
who is leaving the area. Good luck in your new gig bro! We will miss your positive attitude around these parts. :)
-----
Have I even mentioned basketball this year? Bah, to lazy to check the archives... Anyway, our team is once again solid. After a tough OT loss against our rivals in the first game of the year we've bounced back to 5-1 overall. Next week pits us against a team from an upper division. We've got a shot if we play solid.
I'm somewhat out of the loop in the blogger scene. Has there been any talk of Vegas this summer?
Monday, January 14, 2008
BOOM: More UB Dramabombs
I am not sure I've got the time to follow this as closely as the Absolute Poker Scandal, but here goes for now. If anyone has a comprehensive summary going please let me know.
The list of users in question is: like2win, utakeit2, flatbroke33, sleeplesss, nymobser, nopaddles, nionio and easychamp (chip dumping). If you have hand histories with any of these players please send them to trambopoline on 2+2.

According to super-sleuth Nat:
-The nionio account was changed to nymobser.
-The nopaddles account was changed to sleeplesss.
-The changes were made on the same day.
Do not
play on Ultimate Bet until this issue has been completely resolved.
Sunday, January 13, 2008
Not Again: Superuser Cheating on Ultimate Bet
Evidence is mounting that there was at least one Superuser account on Ultimate Bet late last year. The player, NioNio, wasn't quite as blatant as the idiots on Absolute. The
2+2 Thread is here
and Phil Hellmuth has apparently admitted that UB knew about the cheating and failed to announce it or refund monies.
Oh yeah, UB and Absolute are owned by the same company.
I said this before when the Absolute cheating was first detected, way before it blew wide open, the people making these claims are not the tin foil crowd. These are some of the best and most respected high stakes players on the net. They've seen heaters, they've seen variance and they suspect foul play.
The evidence is not completely conclusive. However, at this point you would be a complete fool to continue playing on Ultimate Bet.
Shit, can we please get some regulation?
Thursday, January 10, 2008
2007 is a Wrap!
Okay, it's finally time to review the missed goals from 2007. Here is
the link to my original post
.
Goals 1 & 2:
Play in a WSOP event

. This would ideally be a 1-2K NLHE tournament that overlaps with a blogger gathering.
Use FPPs on Stars to pay for m

y

WSOP event seat.

I need to get a few more points and get back to Platinum Star by WSOP time.
If you've been reading Royal Poker you know this didn't happen. Mostly due to several summer weddings and one work trip that limited my opportunities for attending a 1-2K NLHE WSOP event. I actually made a good run on Stars FPP and currently sit slightly short of the 62K needed for a 1K buy-in.
So if I decide to try this again in 2008 the FPPs will be there. Just getting to platinum star will get me to the 1K level and a little more play would allow a 1.5K event.
Goal 3:
Play

12 (one a month) Sunday majors or comparable events. That

seems

about the right amount to balance

other weekend activities.
I played in 9 events comparable to the Sunday Majors cashing in 2/9 for a slightly negative result.
Goal 4:
Make 20

online MTT

Final Tables.

This could be a challenging goal depending on how many MTTs I actually get in. I considered setting a play XX MTTs goal instead, but I somewhat have that covered with the Sunday majors goal. If you counting WSOP Satellite final tables I would have been just short of this goal in 2006.
The final table total for 2007 was 12.

So that makes me an ofer on 2007 goals. Overall I'm not disappointed though. Real life got in the way and that's just fine. I've yet to finalize the 2008 goals, but I'm looking at something close to last year.
-----
I also spent a good portion of December completing the
Carbon Poker Twelve Days of Xmas Scavenger Hunt
. I ended up being
one of two players
to score 11 prizes. Including a 30" LCD, Laptop, Wii, iPod Nano and cash. I played over 30,000 hands of NLHE in a six-day span to wrap up the last few prizes. So much for 10,000 hands per level!
Sunday, January 06, 2008
So You Wanna Go Pro?
There have been a couple of interesting threads on the interwebs the last few weeks.
First, the
annual 2+2 profits thread
is up. See the sicko graphs from some of the top earners on 2+2. These results are not typical. Remember kids, only 10% of on-line poker players are winners (not counting rakeback, bonuses, etc.)
This graph is getting the most discussion: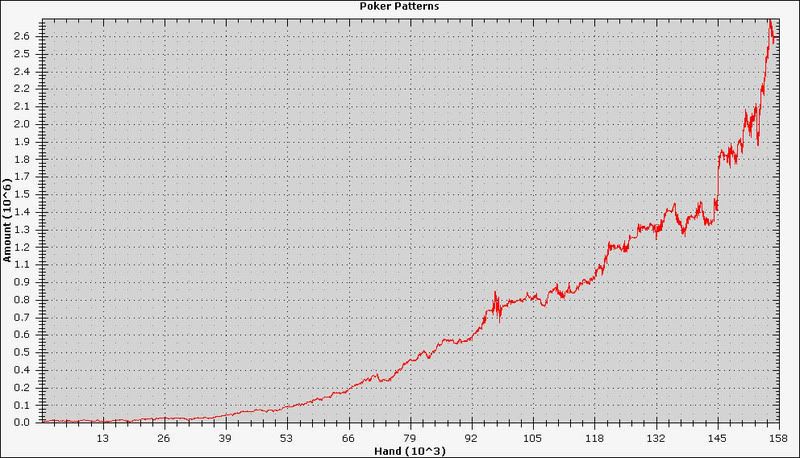 Second, the "downs" of a MTT pro are discussed
in this thread
on PocketFives. It appears most pros have dropped 5K (tournament buyins) in a single day, usually a Sunday. You better be rolled properly before playing the $100 and $200 rebuys.
Tuesday, January 01, 2008
Happy New Year!
Here's wishing you all a fantastic 2008!

Subscribe to Posts [Atom]